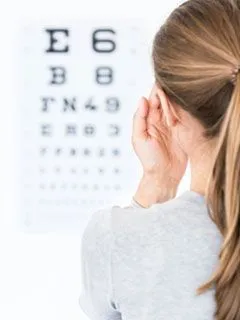 Taking care of your eyes is one of the most important things you can do in your life, especially as you get older. Our eye doctor at Giant Hempstead Optical can help.
Eye Exams
It's important to have your eyes checked out every once in a while to make sure your prescription is accurate and you aren't dealing with any vision conditions. While younger adults can get away with an eye exam once every 3 to 5 years, older adults should be getting an eye exam every year or two to keep their prescription current and eyes healthy. Fortunately, getting a vision exam is a simple and quick process when you visit Giant Hempstead Optical.
Contact Lens Exams
Glasses aren't the best solution for some people. Whether glasses get in the way of your work or you simply don't like the way they look or feel, contact lenses can be a good alternative. However, that starts with getting a contact lens exam to figure out what kind of contacts you need for your eyes. There are a handful of different types of contact lenses, including both rigid and soft lenses. An eye doctor at Giant Hempstead Optical can find the best solution for your eyes.
LASIK
LASIK is a great way to improve your eyesight permanently. While this procedure may sound like something out of a sci-fi novel, it's actually one of the safest and most successful procedures. Not only does LASIK cause minimal pain, but it also leads to improved eyesight that lasts thanks to the corrective nature of the surgery. We can provide you with both pre- and post-op LASIK care.
Vision Therapy
Sometimes it takes more than glasses or contacts to correct a vision problem. Some vision problems are a result of the eyes not knowing how to behave in a particular situation or not being trained properly. Vision therapy can help correct eye strain and focus issues that make it difficult for some people to see. No matter what kind of vision condition you're dealing with, we can help you create a plan for treating that condition so you can live a normal life.
Give Us a Call
Keeping your eyes in good shape isn't easy, but finding a good optometry center is a good place to start. Whether you need eye exams, contact lenses, or care before or after your LASIK surgery, Giant Hempstead Optical can help. Give us a call today to schedule an appointment for your next vision exam.